Not based off of anything other than your average everyday zombo.
Description
Edit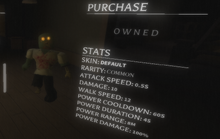 He looks like the average zombie, and uses sounds from BO2 Zombies when taunting and attacking. 
Abilities
Edit
His ability is to lunge forward and bite into any survivor, resulting in an instant kill. This ability is can also be used to dash forward.